Hail to the K-I-N-G
Perfection. Patience. Precision. Dedication. Calmness. All synonyms for a guy as unique as one can possibly be in this fascinating universe of collecting and presenting vintage race bicycles. In this blog post you will read about a man who takes things to a different level. A man who points out details you may have never noticed before. A man who demonstrates patience and dedication on each project he is working on.

Meet André Schwyn - a.k.a. the k-i-n-g.

You might look at bicycles in a different way, once you finished reading this article. At least we think you should.
A rocket man redefines himself
It was the year of 1999 when André decided to study visual design. Not very typical for a 36 year old man to go back to school. But as well as this move, André is not the typical guy. As a teenager he was passionate about building rocket kits, which also required skills in various chemical sectors. This brought him to his original profession as a chemistry lab technician. After almost blowing off his hand in a failed launch attempt, he decided to leave this stuff to professionals.
He decides to do some soul-searching instead and saves up money to travel through Asia.
Years later after moving to the city center of Zurich, he visits a training course in 3D Design. It steals his heart and he applies to the Zurich school for design and art - and is accepted.
Andrés mechanical skills and incredible patience, derive not just from building rockets, but also from his early interest in mopeds and later, as a young adult, in old-timer cars. His introduction to cycling wasn't as much fun as you'd hope for when you are a child. His parents bought him a small Pony-bike, which was also meant for his little sister by the time she grew up. This mini-bike gave him quite a hard time when trying to catch up with his school friends, who already had more proper bikes. It was a tiresome game with that Pony, no wonder mopeds caught more of Andrés attention. In particular it was a Cilo moped, which became his first complete restoration project.

Years later, on an ordinary day in his early thirties, André finds an old blue steel bike in a scrap metal container. He saves it from the shredder and brings it to Sepp Fuchs, a former bike professional and well known bike mechanic in Zurich back then, who restores the bike for André and makes it rideable again. The unbranded bike was nothing too fancy, but it was the first time that he owned a race bicycle and with it the beginning of a newly discovered passion of his life.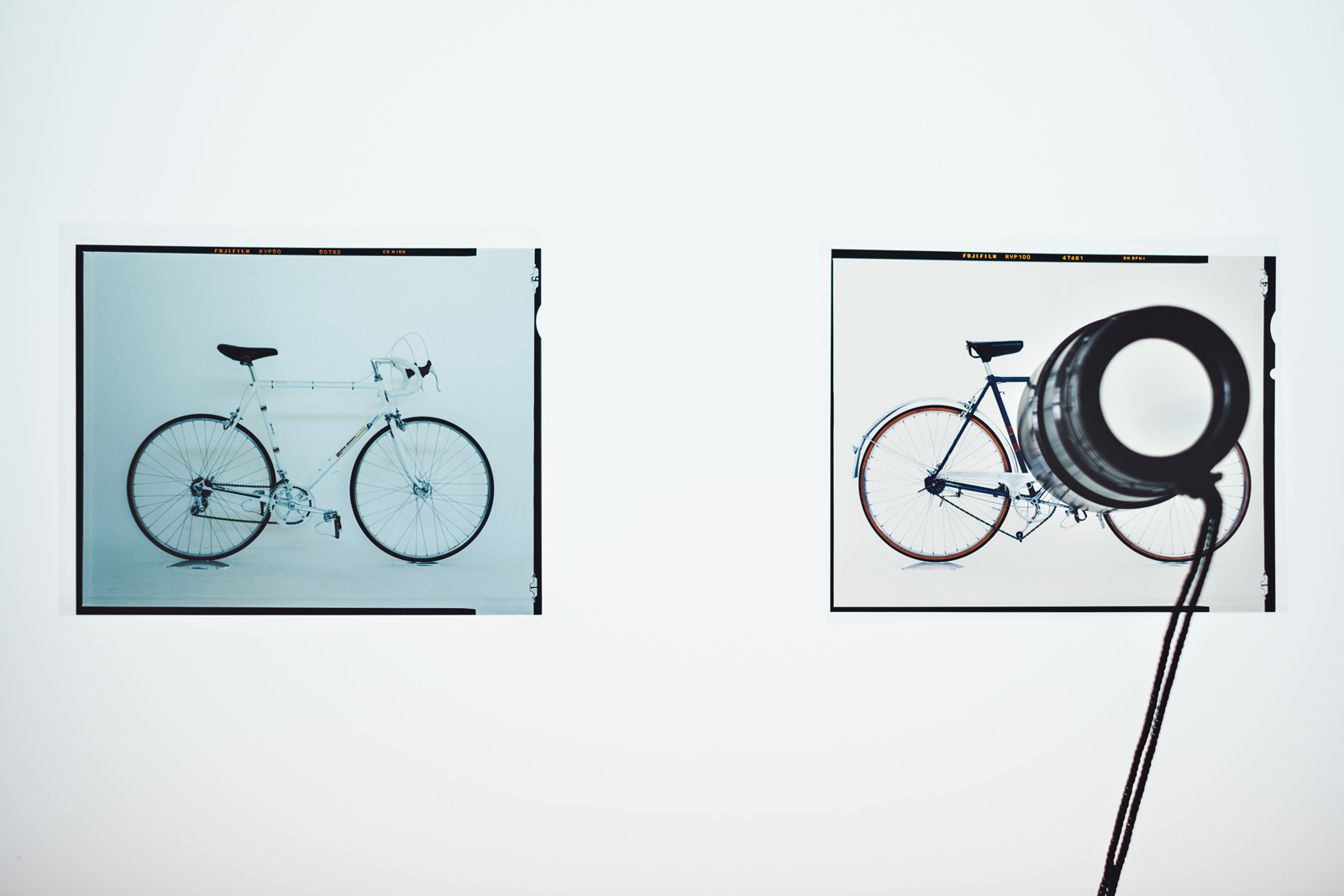 Hunting for treasures
André never planned on being a collector. It all started in the year 2000, with the first find of a real jewel, an Olmo la Biciclissima. His time of treasure hunt begun. André remembers finding decent race bikes almost every week at local flea markets. He started buying bikes, overhauling and reselling them. He used his newly acquired skills to reconstruct decals. While dealing with all these different parts and components, he developed the idea of writing a book about Campagnolo parts. But since his own collection already reached the number of more than 30 bikes, he decided to expand the project and merge it with his other passion, photography.
While visiting Japan for a school project in 2001 he bought his first digital camera. A Nikon CoolPix 990. He slowly progresses to a Super 8 and 16mm movie camera and is totally crazy about it. During his exchange semester, he gets the honor to make an internship at the School of the Art Institute of Chicago. He films and photographs with analog cameras and gets hooked on this vintage style. The decision was made - a large format analog camera is the right tool to make his ambitious book project a reality of the highest quality.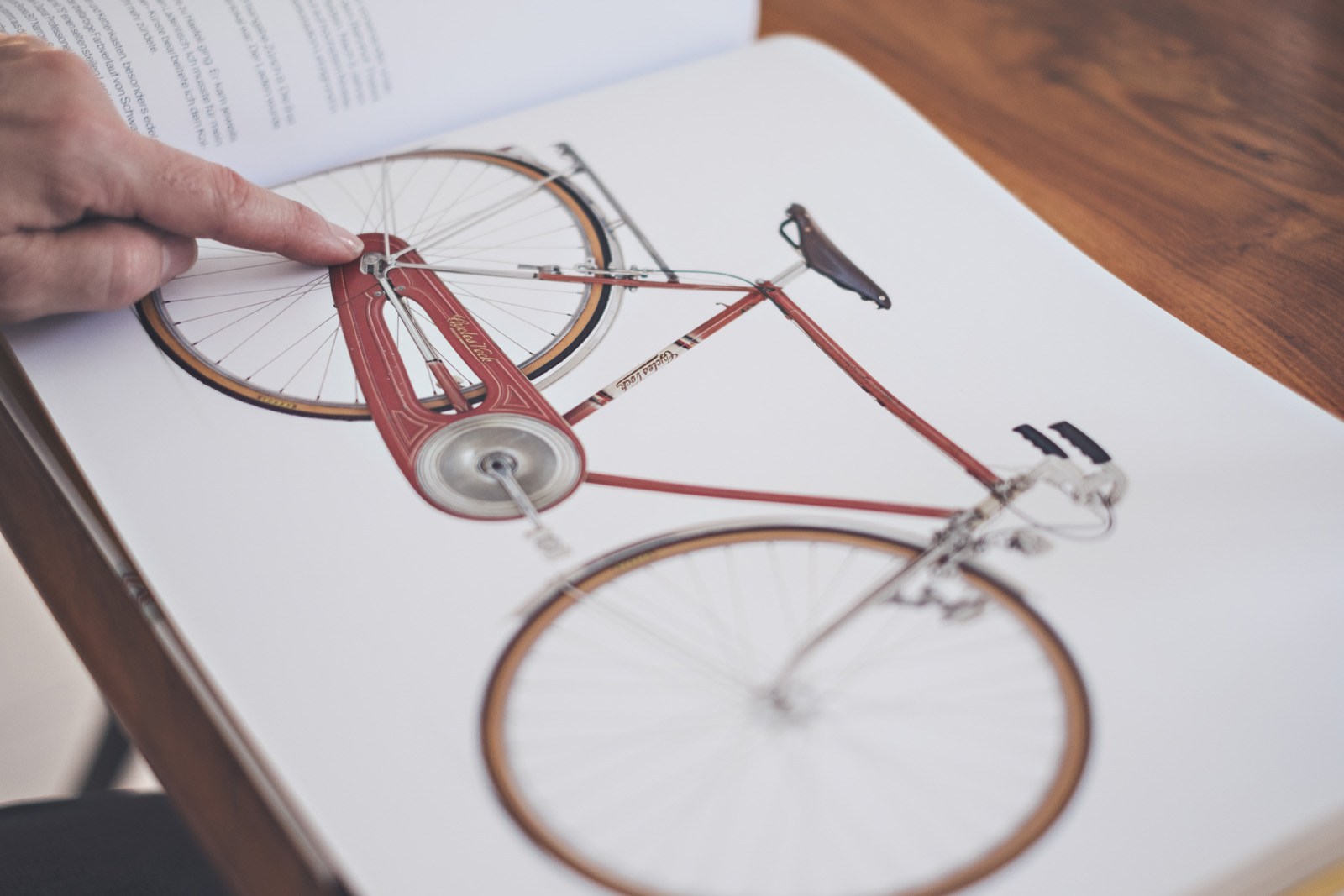 "It's important to preserve all these Stories. it is our responsibility. otherwise a big piece of culture gets lost." - A.Schwyn
K-I-N-G is the name that stands for this project. It is short for: Kick-Into-Next-Gear. It is the name of the biggest photo project he ever worked on. A book which includes his whole collection of 36 different bicycles, back in 2012.
The book is an hommage to exclusive bicycles from the 20th century. Mainly race bicycles are presented with their detailed history, the used components and their manufacturers. All that history, dedication and the precision of these bicycles, needed to be preserved. André points it out as a part of our cultural responsibility, to write down these stories. It would be a shame if they get lost. Read more about this extensively researched project on his website.
The pictures were taken on a Sinar large-format camera and scanned with a high resolution drum scanner. 3 sample books have been printed so far and produced with the highest possible quality standards. The use of the Sinar camera allowed the making of such high resolution pictures, that he also offers real-life prints of his bicycles in the format 1:1. Read more about it here.
More than 6 years of work already went into this project. He is currently working on the english translation of the book.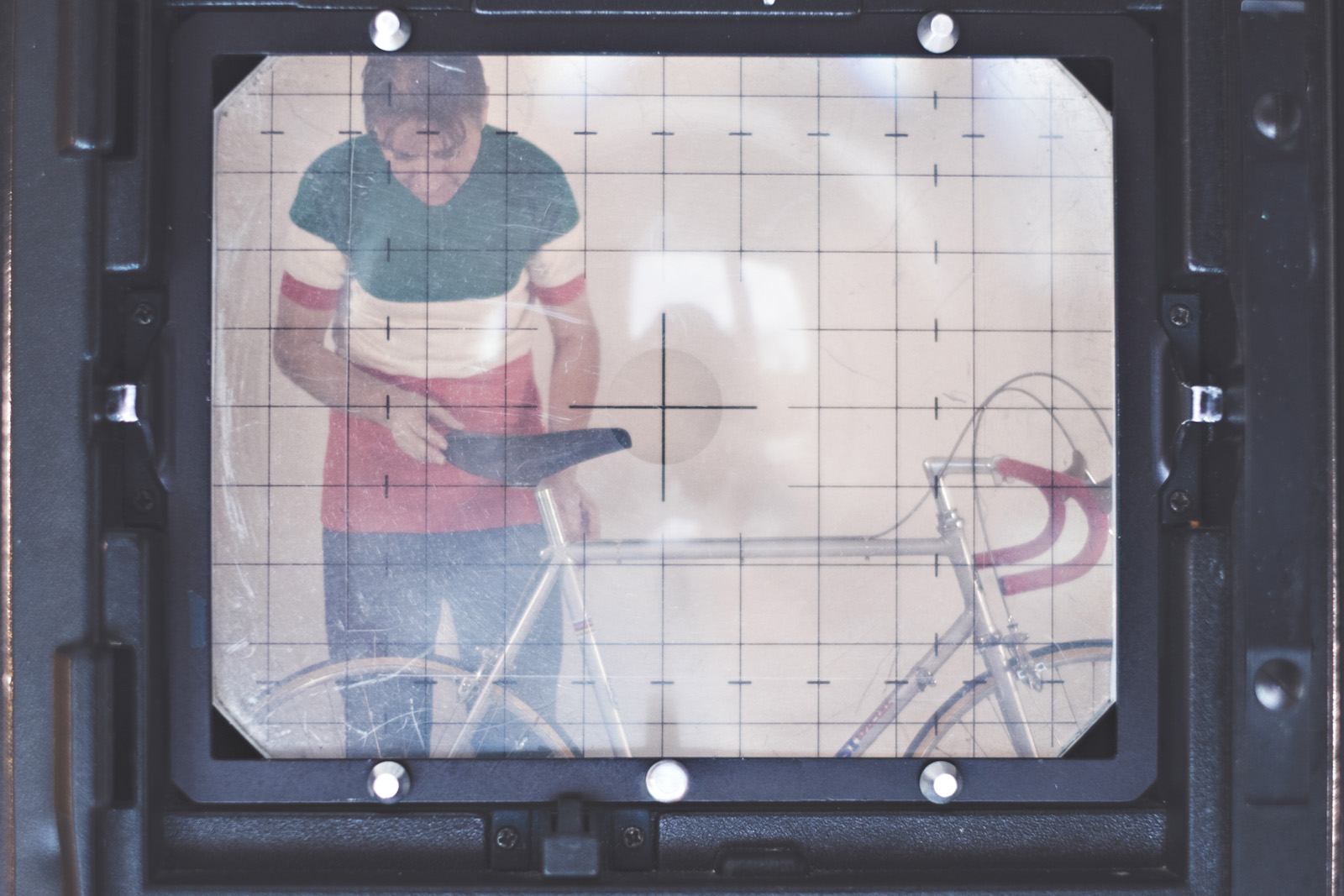 Addendum: An Italian love story
The exciting feeling you get when finding a special bike under non expected circumstances, is a reason for many collectors to stay hooked in this hobby. When one day, André found a Masi Gran Criterium at a bike market in town, he almost couldn't believe his eyes. The bike was rebranded and for him it was out of question, that only "the tailor" himself should put his hands on the restoration of the frame.
He got in touch with Alberto Masi, took the frame and jumped on a train to Milano. Alberto in his very kind way, was thrilled about the fact that this "Andrea" from "Zurigo" took the journey to visit him and bringing him a frame that once his father Faliero built. Following the suggestion of Alberto, they decide on the new color and all the other details. André leaves the frame with him and returns to Zurich.

7 weeks later he travels down to Milano again to pick up the refurbished frame. He enters the small workshop at via Arona and is warmly greeted by Alberto.
Proud of his work, Alberto presents the frame to him. As expected, it is a work of art. There is only one thing that bothers Andrés picky eyes a little. Alberto used his signature on the top tube, even though the frame was originally built by his father. Up until this moment, only 100% originality was good enough for André.
But then he reconsiders and comes to a wonderful realization. This restoration showed him how closely attached bicycles can be to life and how they change with time. Alberto inherited his fathers business and is still leading it with all of his heart. That's why he used his signature as a personal touch on the bike, because it was his work and he is proud of it. It is actually a feature that André likes a lot today.
Besides all the big italian frame builders, André is very much interested in small swiss manufacturers, like Hans Stirnemann, Leo Estermann, Kurt Ott or Vittorio Coassin. And of course also Artemio Granzotto, who had Giovanni Losa building his frames that were sold under the name of Magni, together with refined Campagnolo parts - the famous ICS systems, who were also developed and manufactured in Zurich.
Over the years he learned specific patterns of how the frames were built in certain years. The lugs they used, the angles that were chosen, the difference in steel and brazing techniques. He studies these details to such an extent, that nowadays by simply looking at a frame, he is able to determine the probable year of when it was built.
André is an example of a true collector. Doing what he does with incredible amount of patience, precision and love for the sport. No matter what it takes, it is the process that counts and the results speak for themselves. Just as the following pictures of a customized crankset, which has been enobled with Swarovski strass stones by André. No less than perfect.